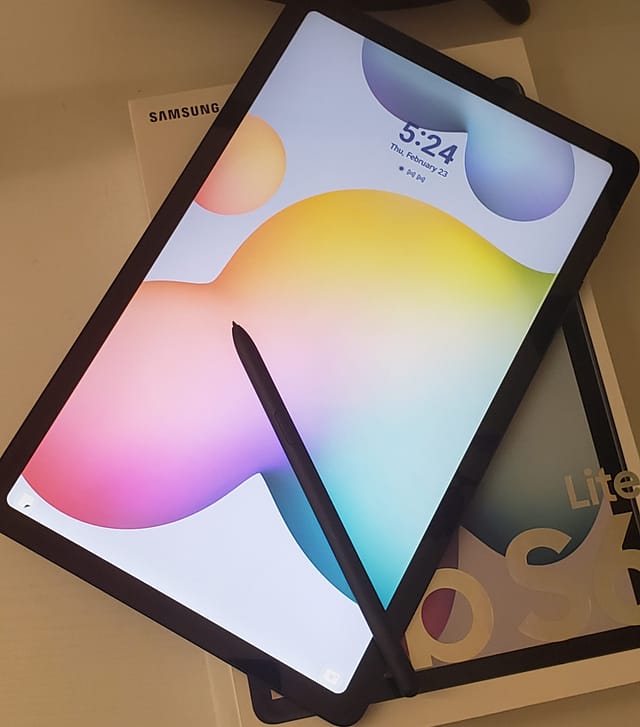 Some of the links in this post are affiliate links, which means I may earn a small commission at no extra cost to you if you make a purchase. Your support helps keep this blog running, and I only recommend products I believe in. Thanks for being a part of this community! Here's how it works. 
Looking for a budget-friendly tablet with impressive features? The Samsung Galaxy S6 Tab Lite might be just what you need! I will dive into the tablet's design and display, performance, camera, software, and more in this review.
Design and Display
Let's start with the design. The Galaxy S6 Tab Lite looks sleek and modern, with a slim profile and minimal bezels. It's lightweight and easy to hold, and it's comfortable for all-day use.
I really love the tablet's 10.4-inch display, which is its standout feature, IMO. With a resolution of 2000 x 1200 pixels, the screen is very sharp and vibrant, perfect for watching movies, browsing the web, or reading eBooks. Plus, the screen is bright enough to use outdoors, which makes it ideal for sunny days.
Samsung Galaxy S6 Tab Performance and Battery Life
Under the hood, the S6 Tab Lite is powered by a Samsung Exynos 9611 octa-core processor and 4GB of RAM. The tablet is quick and responsive, whether you're browsing the web, streaming videos, or playing games. Also, the tablet's 7,040 mAh battery can last up to 13 hours on a single charge, which is great if you're not always close to a charger.
Camera and Software
The tablet has an 8-megapixel rear camera and a 5-megapixel front camera. While the cameras are good enough for video calls and basic photography, they aren't the best on the market. So, if you're buying this tablet solely for the camera, you might want to consider other options.
The Galaxy S6 Tab Lite runs on Android 10 with Samsung's One UI 2.5 skin on top. The software is easy to navigate and provides a clean, user-friendly interface. Plus, the tablet comes with features like split-screen multitasking, which can be helpful if you use several apps simultaneously.
Pros and Cons
Here are the pros and cons of the Galaxy S6 Tab Lite:
Pros:
Affordable price
Sleek and modern design
Impressive 10.4-inch display
Snappy performance
Long battery life
Cons:
Basic camera quality
The plastic back might not appeal to everyone
If you're interested in buying the Samsung Galaxy S6 Tab Lite, you can check it out here on Amazon.
 As an Amazon Associate, I may receive a commission for qualifying purchases made through the links above at no extra cost to you. This helps me keep my blog running and provide useful content for my readers. Thank you for your support!
Final Verdict of the Samsung Galaxy S6 Tab
Overall, the Samsung Galaxy S6 Tab Lite is a great budget-friendly tablet with impressive features. Its sleek design, stunning display, fast performance, and long battery life make it a solid choice for anyone who wants a reliable and efficient tablet. 
While the camera quality isn't the best and the plastic back may not appeal to everyone, the tablet's many strengths outweigh its minor drawbacks. If you're looking for a budget-friendly tablet that doesn't compromise on features, the Samsung Galaxy S6 Tab Lite is definitely worth considering.
Check out more of my tech content here.